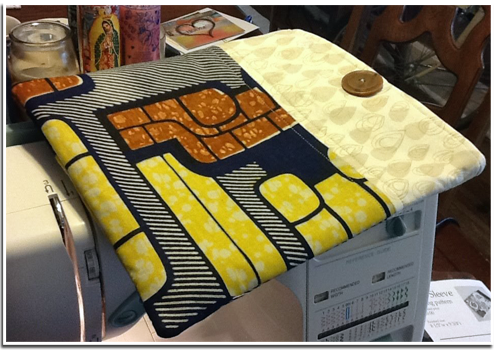 My latest 4HourProject isn't like anything I've ever done before. In the sense that it's actually useful. I made an iPad sleeve on Sunday using a pattern by a local company called Pattern Patti.
While the cutting, sewing and finishing only took 4 hours, I spend probably another two hours wonderingwhat the heck was wrong with my machine, or fabric, or needles or "why, oh, god why I was cursed with fat, clumsy fingers and an inability to sew a straight line to save my life!"
I'm the "Chad Kroeger of Sewing"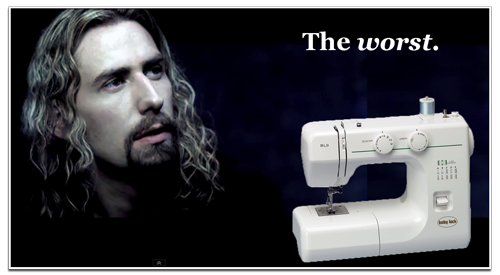 The truth is, I may actually be the worst sewer(ist?) in the world. And that's no exaggeration. It took me roughly five months to finish Crimson Tate's Sewing 101…a four hour class. And after attempting my first project, a pillow case, I spent the next week and half in remedial sewing, heading down to the sewing shop during my lunch time to bug my teacher, the awesome, infinitely patient Heather Givens, for help.
This is how my lunchtime lessons would go. I'd show up with something that looked like a modern art approximation of a bird's nest and Heather would say, with all the enthusiasm she could muster, "oh…that's….different…I've never seen a straight stitch with a right-angle in it before…"
In case you forget what a pillow case looks like, it's pretty much a rectangle (the same shape as a pillow). Making a pillowcase isn't rocket science. In fact given some fabric and a needle and thread, most people could figure out how to make one in less time than it took me to make one with a machine.
Sew Proud!
However, I stuck with it and finished my pillow case. I remember feeling pretty proud of myself. And while I've never been a father, I'm sure the feeling of holding your baby in your arms for the first time pales in comparison to falling asleep on a pillowcase you created with your own hands.
I'm the proud pep-pep of a pillow case.
Happy Father's Day.