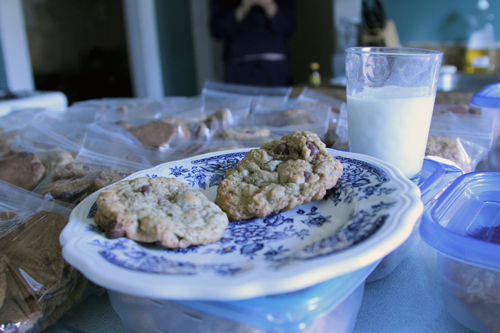 Working with a few friends, I baked about 275 cookies this weekend. One of my roommates is a professional baker and did a great job managing, helping and advising as we tackled this huge project.
You can request a free batch of cookies here.
The recipe
I found a great bulk cookie recipe at Beauty and Bedlam that was delicious and yielded 100+ cookies per batch. It's called the Neiman Marcus Cookie Recipe. Feel free to half or quarter it to fit your needs.
Cookie Me! Chocolate Chip Cookies
(Makes 112+ cookies)
2 cups butter
4 cups flour
2 cups granulated sugar
2 cups brown sugar
5 cups blended oatmeal (measure oatmeal and blend in blender to a fine powder) *I have bypassed this at times
24 oz. chocolate chips
1 tsp. salt
1 8 oz. Hershey bar (grated)
4 eggs
2 tsp. baking powder
2 tsp. baking soda
3 cups chopped nuts (your choice)
2 tsp. vanilla
Cream the butter and both sugars.
Add eggs and vanilla; mix together with flour, oatmeal, salt, baking powder, and soda.
Add chocolate chips, Hershey bar and nuts.
Roll into balls and place two inches apart on a cookie sheet.Bake for 10 minutes at 375 degrees.