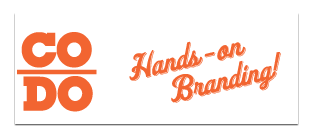 CODO is a identity firm in indianapolis built by Isaac Arthur and Cody Fague, two talented, affable chaps who are passionate about design, beer and creating unique identities (not necessarily in that order). They are the brains and heart behind some of my (and likely your) favorite identities in Indy, The Libertine, Tomlinson Tap Room and Pogue's Run.
I sat down with them (an embarrassingly long time ago) to learn more about what they do and what exactly "hands-on branding" entails.
Here's what I learned from CODO:
1. The client knows best. Carry them along
Hands-on branding is at the heart of all their work. It means the client is included in research, mood-boarding and brainstorming/idea-formulation – they're essentially part of the creative team. Therefore, the final product truly reflects the combined effort of client and designer. The upside of this is that the creative is truly representive of the client's wishes. Or if you're a cynic, the upside is that it's much harder for clients to hate the solution because they had a hand in crafting it :).
2. Work hard and don't be discouraged
Something I didn't mention about Isaac and Cody, for all their success, acclaim and amazing work, they've only been building the CODO brand full-time for three years. They graduated from IUPUI's Visual Communication program in 2009 and decided they wanted to build something awesome. Their brand and company is a testament to the power of hard work.
3. Trust your gut
Isaac and Cody knew they wanted to build a business and stuck to their guns. I admire  their confidence and I'm slowly learning to listen to my gut too. So far, that advice has served me well, except for the time my gut suggested I eat a 1lb ground elk meat burger at Bubs in Carmel…
4. It's not about you. Be empathetic
The word that seems to come up a lot when talking about CODO is "empathetic." They seem to have an understanding of their brands that permeates their thinking, their solutions, even the decision to include the client in the creative process. There's very little client/agency separation and I think that's what makes their work so good.
5. Be a good human being
Is this something I learned from CODO? Perhaps not. But they certainly exemplify it. They are warm, approachable and sincere. They are always willing to talk to students, look at portfolios and share their valuable time with schmucks like me. CODO is exactly the kind of company you'd want to create an identity or any kind of communication for you.
6. Make rad things often (CODO work below):