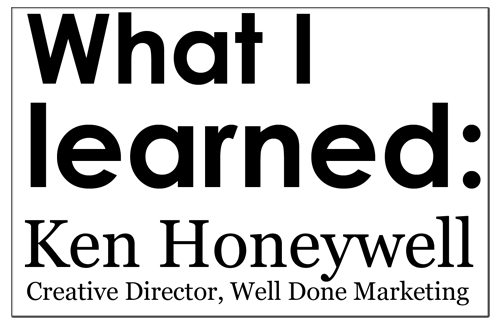 Ken Honeywell is a Creative Director at Well Done Marketing in Fountain Square. He has over 30 years of experience as a copywriter and creative director and is one of the chaps behind Tonic Ball, an annual fundraising music festival. When he's not creating great work , you can find him running Punchnels.com, a web magazine, and working on his next novel.
Here's what I learned from Ken Honeywell about advertising, building a great team and creating a better world:
1. I can teach you grammar but I can't teach you great ideas (about hiring good talent).
2. Don't let your idealism get you down.
3. The best thing my dad told me: "if you are good at what you do, you'll find work."
4. Don't be shy.
5. Find a need and fill it.
6. The future is content.
7. If the scene you want isn't here, create it.
8. Try to work for someone else for 3 – 5 years, you can benefit from the discipline.
9. Own it and build it.
10. Don't hide behind an organization. 
Words are Ken Honeywell's, spelling and grammar errors, other mistakes are mine.
Know any other awesome people I should be learning from? Leave a comment or email: hi@mayowatomori.com.